Last weekend, the Mirabel Centre, Nigeria's first sexual assault referral centre was honoured with an award of recognition for humanitarian service by the Nigerian Volunteer Awards.
The Nigerian Volunteers Award, an initiative of Leap Africa commended the Mirabel Centre for selfless service towards humanity and the Nigerian society as part of the #Tribeof2021 in the 5th edition of the annual award.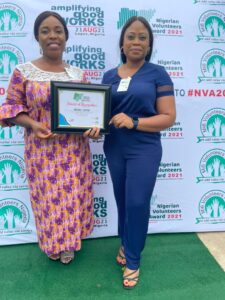 In her acceptance speech, centre manager for the Mirabel Centre thanked the award organizers for the recognition and pledged that the centre will continue to be a safe haven for survivors of rape and sexual assault. Also representing the centre was programme officer, Alexis Adelu – in her remarks, she spoke about the endemic nature of sexual abuse and thanked Leap Africa  for encouraging non-profit workers and volunteers to continue to do more to curb the problem of sexual violence in our society.