Itoro Eze-Anaba was today honoured and recognised by the Federal Ministry of Women Affairs, as a champion for women, children and persons with disabilities. The award recognises her humanitarian, selfless and outstanding contribution to ending violence against women and children, especially girls, in addition to other laudable initiatives she has embarked on to improve the wellbeing of the Nigerian woman.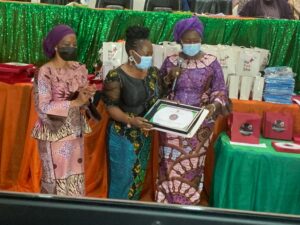 While presenting the award, the Honorable Minister of Women Affairs, Dame Pauline Tallen, lauded Itoro's immense contribution to the fight against gender-based-violence in Nigeria.
The award was presented at the 21st National Council for Women Affairs in Uyo. In her acceptance speech, Itoro said: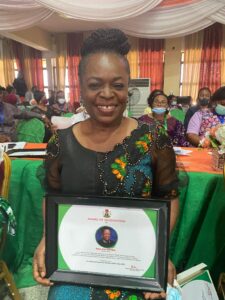 "It is with great joy that I accept this recognition as a champion for Nigerian women, children and persons with disabilities.
I feel truly honoured to be receiving this recognition at this time. The true heroes, though, are the survivors who continue to inspire us never to give up, but to keep fighting for justice and a society where women, children & persons with disabilities are treated with dignity and protected. It has been a long journey, loaded with learning points and never ending challenges. Through it all, I have remained committed to my pledge to provide the best professional support to survivors of rape and sexual violence who visit the Mirabel and Nana Khadija Centres on a daily basis.
Itoro Eze-Anaba founded the Mirabel Centre, the first Sexual Assault Referral Centre in Nigeria in July 2013; in March 2020, she founded the first One-Stop Centre in North West Nigeria – Nana Khadija Centre, which provides holistic professional services to survivor of gender-based-violence.