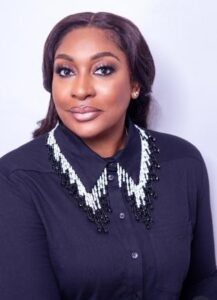 Ego is a Nigerian Actor, Producer, Executive Producer and Film and Creative Entrepreneur.

She is founder and Managing Director of a production company based in Lagos, Temple Productions and Temple Media. She has over 25 years experience and expertise producing and consulting on Film and premium multi media content in Nigeria.

Ego has a BA ( Bachelor of Arts, Theatre Arts) from the University of Benin. She became a household name in 1991 when she made her professional debut in the critically acclaimed Soap opera 'CHECKMATE' on the Nigeria Television Authority.

After five years on the Show, She made her debut as a Producer with the Film VIOLATED (1996) and established her production company Temple productions, and rental Studio to move the Industry into the Digital space and meet the equipment needs which were prevalent at the time. To deliver additional quality on its productions, Temple partnered for a period with the South African firm The Refinery for post production services.

Temple under her leadership has gone on to produce multi award winning Film which tell the African story and have been major seminal moments in the Nigerian industry.

Ego and Temple Productions work with multiple creatives all over the world, and has supported and provided technical support for many Film professionals and Nollywood projects.

Ego has Produced Television Advertisements, including the 1998 Presidential campaign videos and jingles, Music videos, Business and Corporate Documentaries, Social realism documentaries  for private and Corporate clients, Advocacy and social interest Short Films.

Ego is a member of the board of directors Lagos Preparatory and Secondary School, Ikoyi, a private British curriculum School based in Lagos.

She is the Chair of the Advisory board of the Lagos Fringe Theatre Festival, a multi disciplinary Festival which runs annually in Nigeria and encompasses the full spectrum of artistic diversities.

She is Founder and Trustee of Tempio Media Advicacy Foundation, which is a foundation which was set up to support multiple charities with their media advocacy. Their work has supported SA/VAW stage plays, animated series for children and PSA  for several charities who work in the area of sexual assault and violence against women and children. In addition, she is a member of the advisory board of the Nigerian Oscar Selection committee, an organization charged with selecting Nigerian Films to represent the country in the international Film Category at the Academy awards.

She is a member of the International Women's Society, served as it's 60th President.
IWS is a charitable organization that supports women and children in the community.

She was also on the advisory board of the Oando Foundation.

Ego is a member of many industry associations and  continues to support many artistic endeavours with a  focus on Film and entertainment, Film projects and Festivals, Women in Film, Playwright and Script writing, Drama and historical competitions.