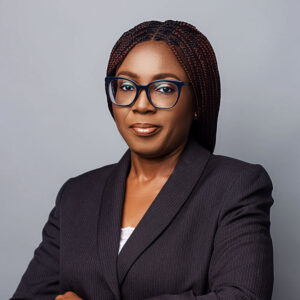 Hon. Justice Olusola Ajibike Williams holds a Bachelor degree and Masters degree in law from Obafemi Awolowo University and University of Lagos respectively. She was called to the Nigerian Bar in 1986. She practised as a lawyer at Niyi Oyetunde & Co, Ayanlaja, Adesanya & Co, and Chief Rotimi Williams Chambers. She lectured at the Nigerian Law School between 1992 and 1997 and was appointed a Judge of the High Court of Lagos State in 2001. She served 18 years on the Bench and retired voluntarily in order to face greater challenges. 
In the course of her career on the Bench she served in various capacities, presided over hundreds of cases and rendered decisions on various aspects of law. She served in the Land, General Civil, Criminal, Commercial, Fast Track and Revenue Divisions as well as the Special Offences Court. She also served as supervising Judge in Ikorodu Divsion, ADR Judge and on the 2011 Election Petition Tribunal. Known for cutting through verbiage to arrive at judicial essence, she had an unblemished career on the Bench. She dispensed justice with the simple watch word that every matter represents life.
She retired before attaining the statutory retirement age, to address the need that arose from a gap in justice delivery. Understanding that justice can hang on the flimsy thread of Court and Chambers administration, Hon. Justice Olusola Williams set up the Institute of Paralegal Services (IOPS) to train administrative and support staff of the legal profession.  
She is the Presiding Judge in the reality Courtroom TV Show, Judging Matters, the first of its kind. This she believes makes justice accessible to the common man simply, effectively, speedily and without cost.
Having worked with the illustrious Chief Gani Fawehinmi in her student days, she is a proud member of and has been honoured by Gani Fawehinmi Chambers Alumni Association (GAFCA). Her experience includes working as General Manager of an investment company. She has undertaken the IATA International Law Course, which she passed with distinction and the Basic Life Support Course. 
She has delivered papers at several fora, including conferences of the Nigerian Bar Association and British Council ROLAC Project Workshops.
Her areas of interest include capacity-building and efficiency improvement in legal organizations. She coaches and mentors new entrants into the legal profession. She also champions women's initiatives and programmes promoting equality and inclusion.
A sports enthusiast, she played handball for University of Ife, now Obafemi Awolowo University. She is an advocate of a healthy lifestyle.
She continues to make time out of her busy schedule for exercise, dance and travel.